The women's long sleeve port accessible chemotherapy shirt by ComfyChemo features:
Dual zippers making chest ports more easily accessible during treatment sessions
Comfortable and stylish enough to wear before and after treatment sessions
Made from 50/50 Cotton/Polyester Blend
(Images of pink shirt simply demonstrate how the ComfyChemo shirt is designed and its use).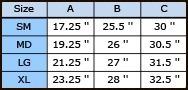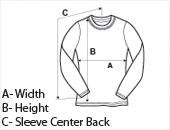 Chest width (A) should be measured across front of chest from armpit to armpit.
Important: If between sizes, or unsure which size would be the fit, we recommend ordering the larger of the sizes being considered.